On 12-13 November 2020 in Nha Trang City, Vietnam Association Of Critical Care Medicine, Emergency & Clinical Toxicology held The 20th National Scientific Congress. PT Lab and Siemens Healthineers bring the RAPIDPoint 500 Systems to introduce in the conferences.
The conference was attended by many doctors all over Vietnam
The conference was attended by many major medical firms in the country, attracting a large number of attending doctors to exchange knowledge as well as learn new developments, new technologies as well as new products in the medical field.
PT Lab and The RAPIDPoint 500 Systems
At the Conference, PT Lab brought The RAPIDPoint 500 Systems, which is one of the company's main products. The product has attracted great attention of doctors attending the conference. A lot of people visit the booth to learn about the product. PT Lab also sent Mr. Pham Duc Huy from Engineer Team to introduce product to the doctors.
Mr. Pham Duc Huy is introducing The RAPIDPoint 500 Systems to the doctors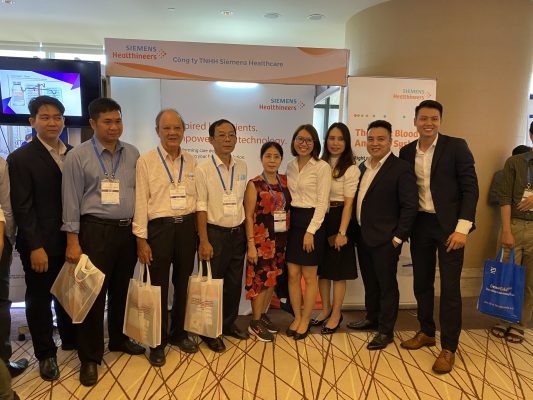 The doctors visit the booth and take photos
There was a lot of interest in PT Lab's RAPIDPoint 500 Systems at the Conference
PT Lab Team at the Conference
The conference was successfully, bringing many opportunities to introduce, as well as exchange new technologies, improve knowledge for doctors. Strongly contributing to development of Vietnam's Medical.
Customers of PT Lab, they are doctors of hospitals all over Vietnam