On November 27 and 28, in Dong Hoi City, Quang Bình,  the Hanoi Association of Medical Biochemistry and Northern Provinces held the 24th  scientific conference.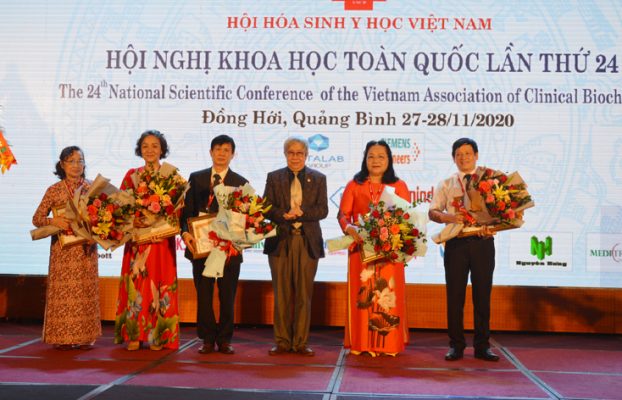 The 24th Scientific Conference of Hanoi Association of Medical Biochemistry and Northern Provinces
The 24th national scientific conference of the Vietnam Medical Biochemistry Association took place successfully with 25 reported scientific topics. Attending the conference were Prof.Dr. Le Gia Vinh, Vice President and General Secretary of Vietnam Medical Association. On the side of Quang Binh province, attending the opening ceremony were Mr. Nguyen Luong Binh, Member of Provincial Standing Committee, Vice Chairman of Provincial People's Council; leaders representing some related departments and branches.
MR Nguyen Luong Binh speak at the conference.
At the conference, participants heard scientific reports on: the supporting role of the laboratory in clinical practice; screening, early detection and diagnosis of liver cancer, research on applying prostate health index in diagnosis of cancer; Valuable studies in the diagnosis and treatment of small cell carcinoma; Introduction to laboratory 4.0, laboratory quality management and many valuable studies in the field of biochemistry.
Delegates attending the conference
Last time, Quang Binh province has invested in inviting Cuban health experts to work. At the same time, creating the best conditions for managers and physicians to participate in scientific research, to approach new and advanced techniques in order to improve the quality of medical examination and treatment.
This conference held in Quang Binh is an opportunity for experts, managers and especially Dong Hoi Vietnam-Cuba Friendship Hospital to exchange experiences and update new research results in the biochemical field.
PT Lab Team
This conference is an opportunity for PT Lab to exchange and share scientific informations, acquire new research result as well as initiatives and experiences gained during the working process to improve knowledge in the field of biochemical testing, molecular biology in diagnostics and treatment, practically contributing to the country's medicine as well as the people's healthcare.
Cutomers of PT Lab, they are doctors of hospitals all over Vietnam